TWO IN ONE: (Father + Mother = You)
Mission Statement:
Our mission at TWO IN ONE is to connect man (Father + Mother = You) with God's idea of family through our fashion.
Vision Statement:
Two In One seeks to heal the brokenness of man and his family through fashion with God's word.
Value Proposition:
You have everything you need to live a fulfilling life. You  are complete!  You are blessed!  You're connected to God and family when wearing Two In One fashion apparel.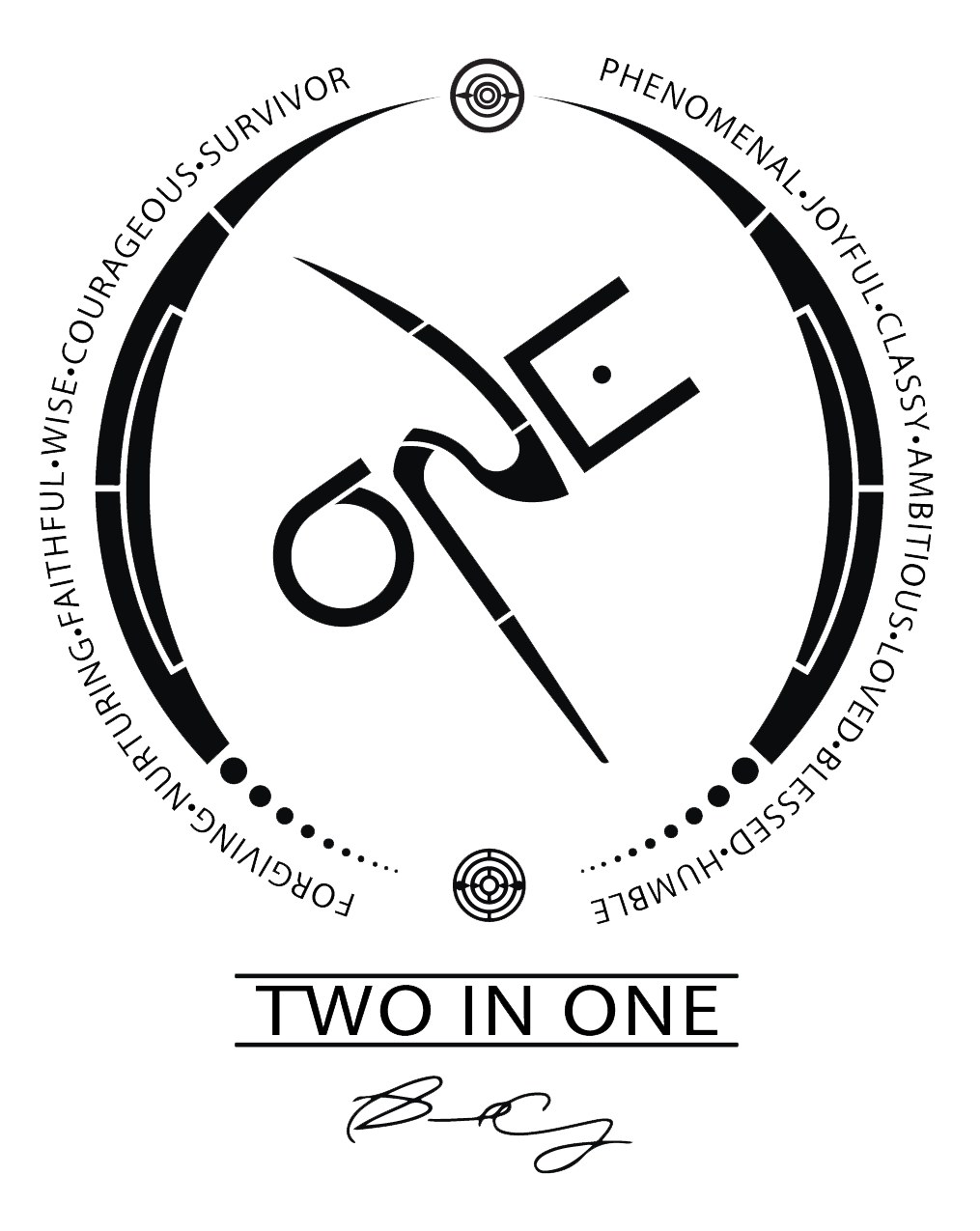 About Us
Hello, I'm David Coney with Two In One clothing Brand where Our Mission is to connect Man with God's Idea of family through fashion.
God Blessed our mother's and father's with the ability to create family.  From this union between a man and woman many families were born. The blood that runs through you isn't your own. It's the blood of your father's father and your mother's mother and many generations of the past, that comes with an indebtedness to honor those who've come before you. If you knew the price paid by your ancestors for you to be here, you wouldn't live life so cavalier, but with a life born of intention and purpose. In your DNA there's a genius, a scholar, a doctor, a nurse, a musician, a writer, a king, a queen, a healer, a warrior, a prophet, an engineer, an architect, a chef, an artist, an astronomer, a fashion designer, a scientist, a hope, a dream, a possibility, an imagination, a determination, a fearlessness, a prayer for a better tomorrow, etc. Whatever you can imagine it is there within you, because you lack nothing at all to achieve. At times you may feel alone, but you're never separated from the whole of humanity. Many have sacrificed so much for you to be here, for you not to give it your all. You're a GIANT and never shrink to anything less! You got this!
The Importance Of Family
John Henrik Clarke, the prolific African history scholar, was quoted as saying, "the most fundamental building block of the nation…is the family."  The very first people on earth formed a family. From the beginning, God blessed and encouraged families, commanding Adam and Eve to "be fruitful, and multiply, and replenish the earth" (Genesis 1:28). Their example shows us that families are of God, the very purpose for which we exist; as the center of God's plan for our collective happiness and progress; gracefully woven into His divine blueprint.
Eric Shaw
Family is all about "unconditional love." We share in one another's joys and sorrows. When one family member falls short, we persevere with tireless efforts to love and support them regardless of the circumstance. If one falls, family will always be there to lift them up! We have a responsibility to be the wind beneath each other's wings. The same goes for when a loved one is soaring and achieving. We celebrate, encourage, embrace and continue to nurture their accomplishments. A strong family bond is the epitome of selflessness and strength. Nothing or no one can penetrate through that bond of devotion to family! A family that is grounded has a spiritual connection to our creator who sustains us through any trial or tribulation. It is a cohesive bond that will never bend or break because of the gift of Love! " And now these three remain: Faith, Hope and Love. But the greatest of these is LOVE."!! 1 Corinthians 13:13
Verborah Frasier
After four scores on this earth and having seen almost all this world has to offer…including riches of every kind, honors and rewards…I can finally evaluate what is the single most important thing in all of my existence. It is very simply the relationship between my family and myself. The family I was born into, the family I married into and the family God gave me, commonly referred to as friends. Family is my true wealth, all the real wealth on earth and all the wealth in the vast universe. The true treasure of life is the love for and the love from your family. Any man or woman who values anything above the treasure of his or her family will die impoverished no matter how many coffers of gold and silver lay at the foot of his or her coffin.
Samuel Evans
The family is an incubator that nourishes you with love, understanding, prayer, wisdom, forgiveness, and strength. The family mentors you throughout life and is your compass leading you in the direction you should go to avoid many of life's pitfalls. The family instills values (education, entrepreneurship, integrity, hard work, cleanliness, worship, etc.) that will aid you during your journey, hoping you'll pass these values to future generations when the process starts all over again. You see the family has a moral obligation to discuss family history and instruction. The survival skills and legacy the family imparts is priceless and without the family you may be a drift not knowing who you are or that you are a child of God.
David Coney
When I think of the importance of family, I often put things in the perspective of those without "blood" family, i.e. orphaned children, foster children, and those on the streets alone. The notion of family can often be taken for granted by those who live in the same household with their biological mother, father, siblings, and extended family, i.e. grandmother, grandfather. I've come to value family especially during this pandemic which has caused my family to have more dedicated time at home due to the shutdown of traditional schools and the workplace. Before the pandemic my husband worked out of state, dating back to 2012, and would be away for two weeks and home for 5-days on a rotating schedule. It was often difficult seeing him leave and knowing that it would be two weeks before his return. His schedule required me to have the responsibilities of mothering and caring for my two children alone or with the support of extended family members. Since he's been home full-time the family bond is stronger and we take full advantage of the time by spending quality time together with nightly family dinner, movie and game nights, and talking with our teenage children about the birds and the bees. I feel blessed and fortunate to have a loving family that I treasure more and more with every passing day. These special times with family will never be taken for granted.
Andrea Dziengue
The family unit is such an important part of who we are and what shapes us into the individuals that we become in life.  I grew up in a traditional family household with both parents, siblings, and a dog.  My childhood was a good one and it wasn't until I became an adult that I realized just how rich my own family values of faith, love, and sacrifices shaped me into who I am today.  I am a single mother that raised my son with the extension of family, friends, and church.  These facets of people have played a big role in my life as I was growing spiritually, financially, and mentally through any adversities that have come my way as a single mother. The wish to have a traditional family in the way that I was raised would have always been a dream for my son and I, but it did not happen that way.  I don' take for granted the village that helped me along the way as a parent, but I can say the rich tradition of love, faith, and peace has let me know that family will always be there for me and I instill those same values in my son. As a single parent, my unit did not include everyone under one roof, but it was a strong family bond that was rooted in me to carry that tradition on in life and pass it on to my son.
Renee'  Sutherland